People & Purpose
When people in the food and beverage (F+B) industry need help, Southern Smoke is there. Really. Started by chef Chris Shepherd in 2015, the nonprofit "takes care of our own" by putting dollars directly into the pockets of F+B workers in crisis—from farmers and fry cooks to servers and sommeliers—to serve as a safety net in an industry where one rarely exists. Over the years, their funds have been used to pay for essentials like groceries, clothing, and rent, and have covered the cost of life-saving medications, natural disaster damages, lost wages, and more. Plus, the nonprofit connects F+B folks and their families with free mental health resources. Our work to rebrand this kickass crew launched our "In Kindness" program here at Principle—a once-a-year pro bono brand project for a Texas-based nonprofit—and the experience doubled our gratitude for these determined local neighbors and the people they serve nationwide.
Services
Verbal Identity
Visual Identity
Writing
Website Design
Print System
Presentation Materials
Signage
Merch System
Brand Guidelines
Text
SSF is both founded and fueled by people who've worked in and deeply understand the unique stressors and dynamics of the F+B industry… which is often a tight-knit, intensely paced, paycheck-to-paycheck community, with grueling hours and tenuous benefits.
It was important from the get-go that the voice of the SSF brand mirror the energy and empathy of the team, particularly in a space where workers are already reluctant to ask for help. Equally important was emphasizing the diverse range of populations SSF serves—workers across all F+B positions, ethnicities, experiences, and geographies. SSF wanted to look, feel, and sound like the humans they are: a group that's got your back, wherever you are.
Text
The flexible identity system utilizes inky, smoke-tinged typography that can toggle between the friendly calm of the foundation and the fiery soul of its festival, recalling the live fire that brings folks together for the annual fundraising bash—a three-day, star-studded lineup of chefs, music, food, drink, and frivolity. A custom monogram, numerals, and iconography system add extra fuel to the fire.
Small + Large Image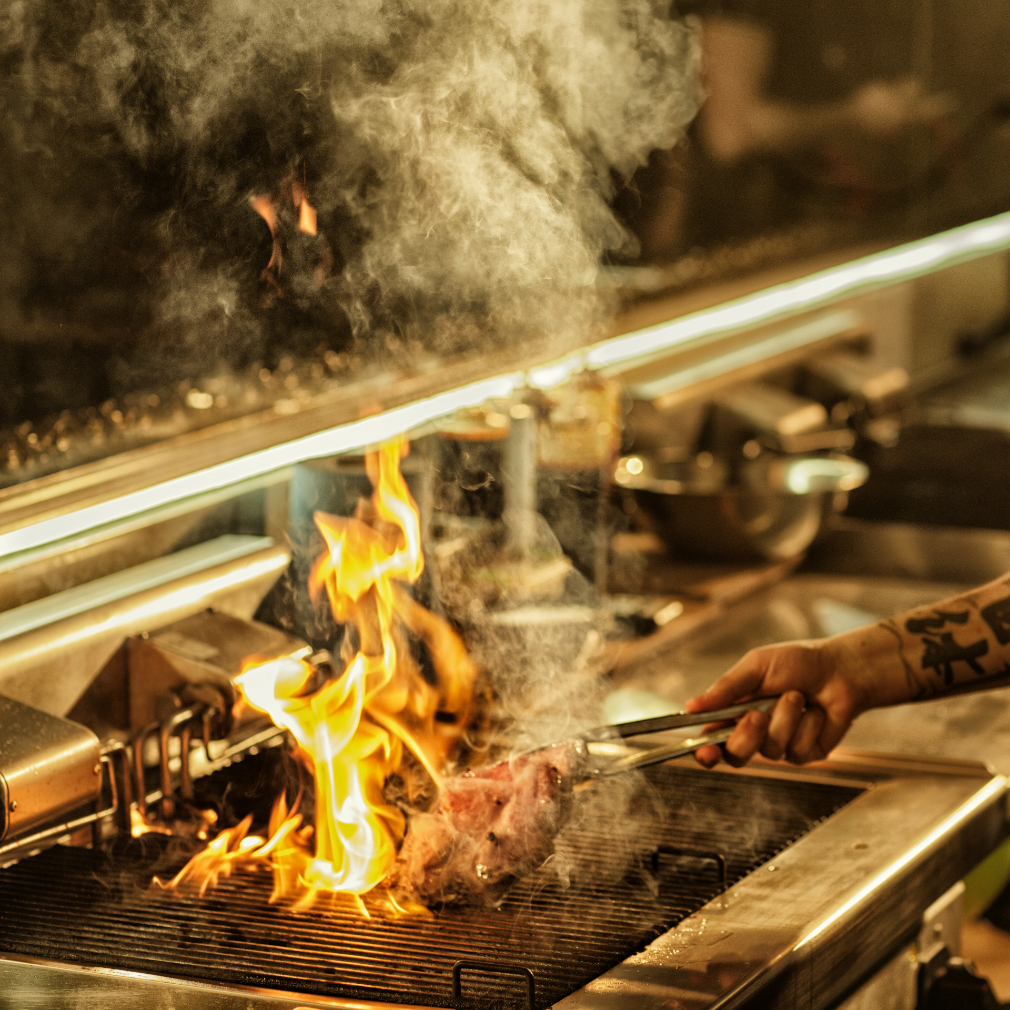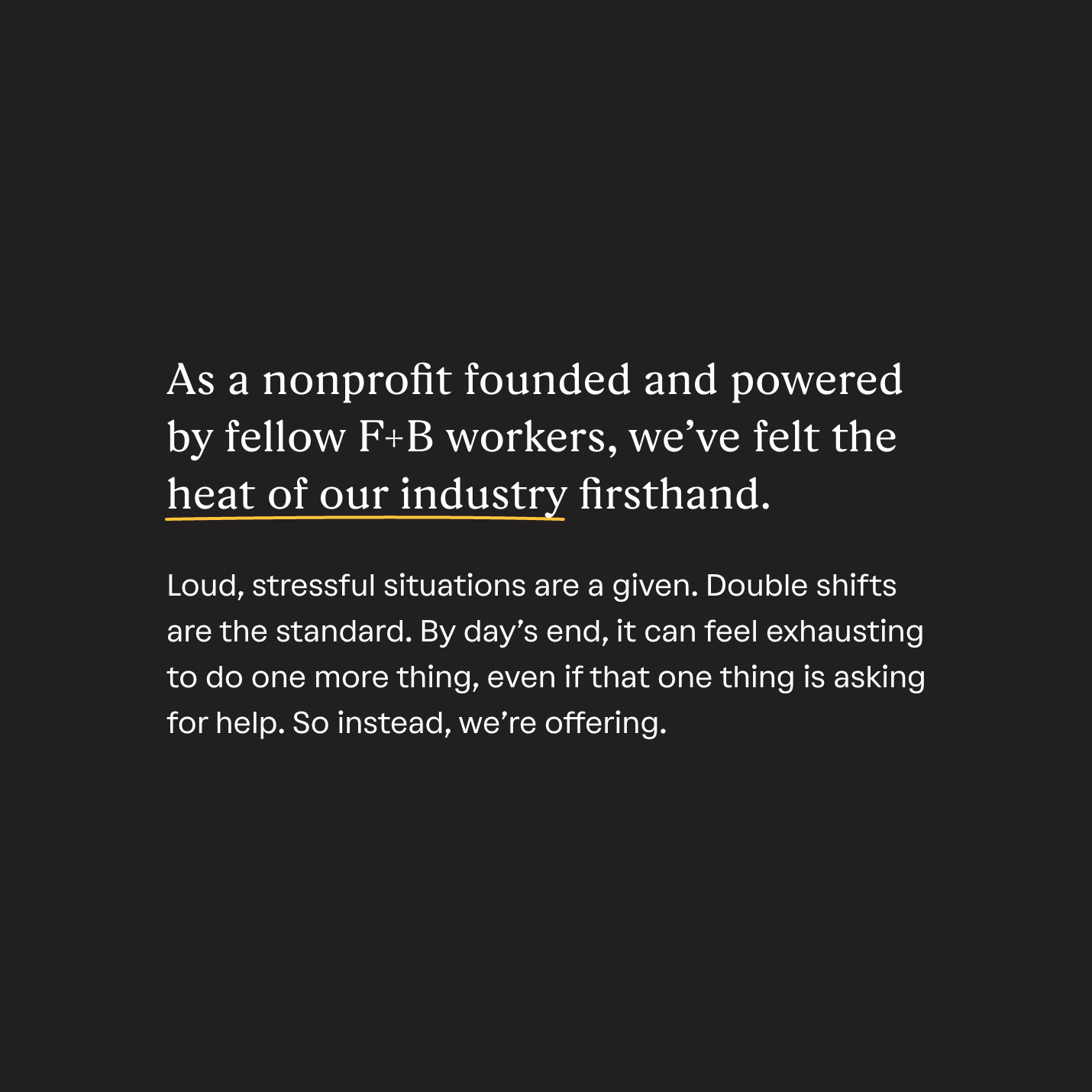 Text
Punchy. Passionate. Thoughtful. Ready. Color, type, and language work hand-in-hand to
augment the other throughout the system.
Large + Small Image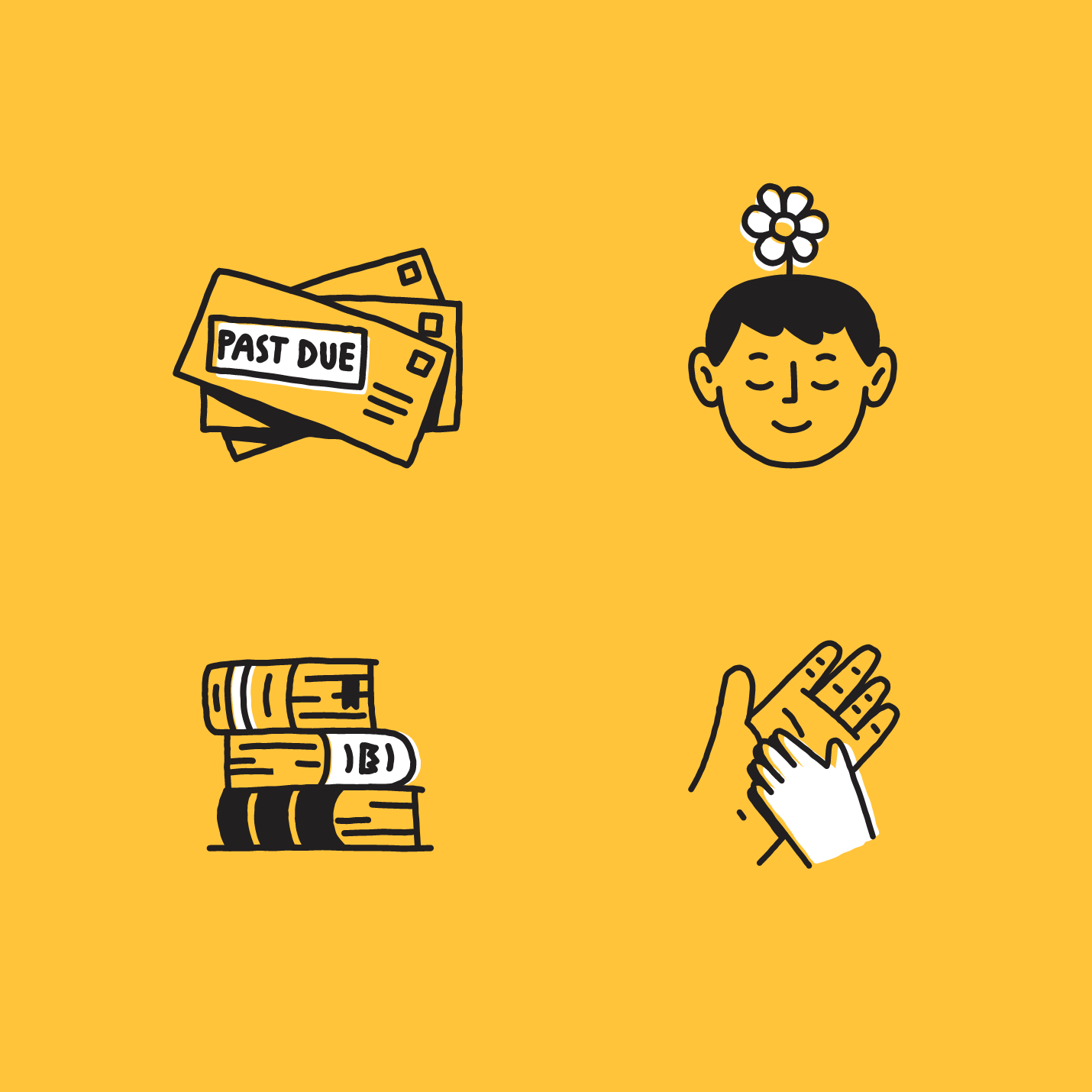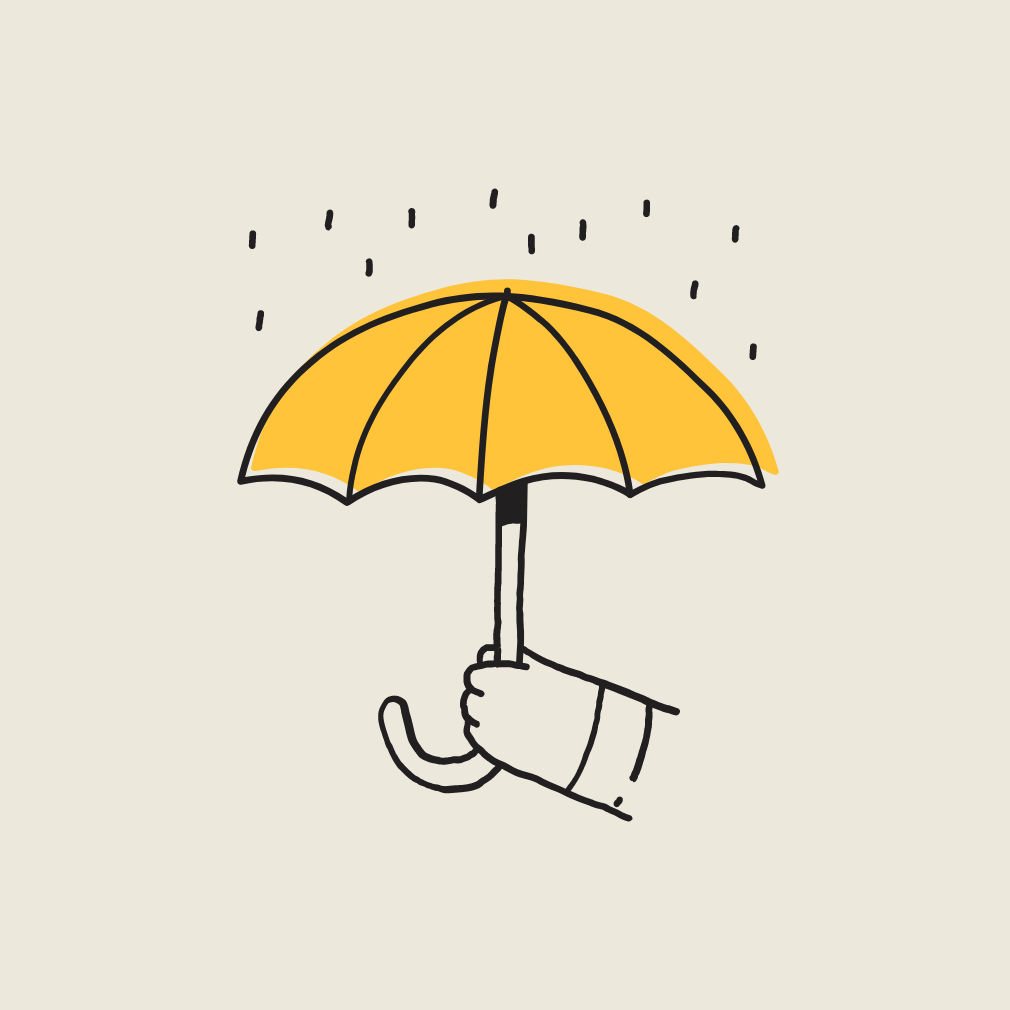 Respect for the privacy of their applicants is a core tenet of SSF's operations. A suite of illustrations add texture and guidance without the visual aid (or expense) of photography, which continues to preserve the anonymity of all applicants.
Text
A robust new website helps SSF tell their story and amplify their efforts with even greater heart and efficiency. From finding the form through final submission, the highest priority was making the application process to receive funding and mental health services faster, friendlier, and less overwhelming for their core audience: F+B workers looking for help.
Text
The site surfaces and simplifies all the amazing work SSF does—geographic reach, dollars distributed, partner organizations, applicant testimonials—offering a clean and credible experience without sacrificing the team's passion or personality.
Small + Large Image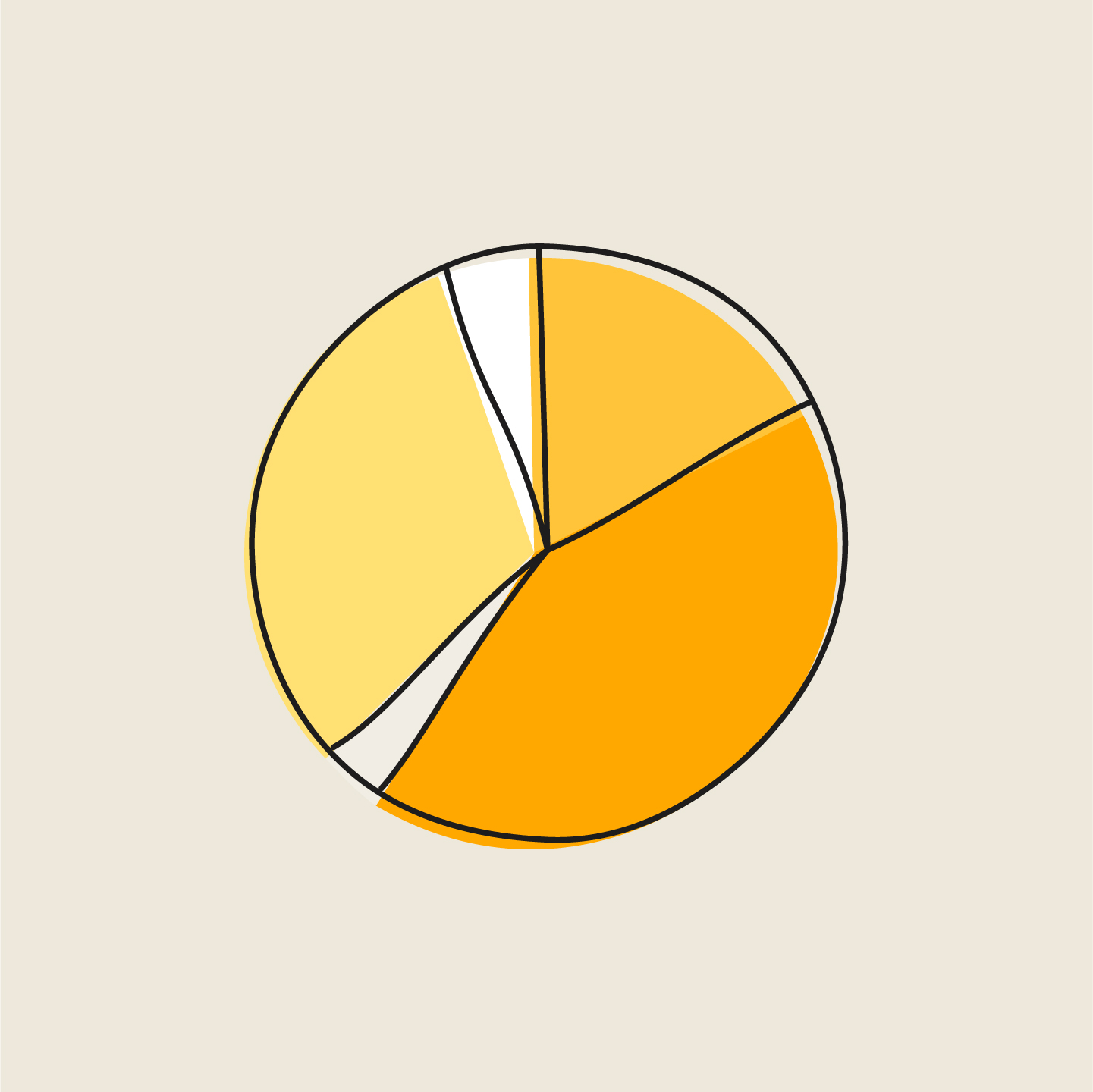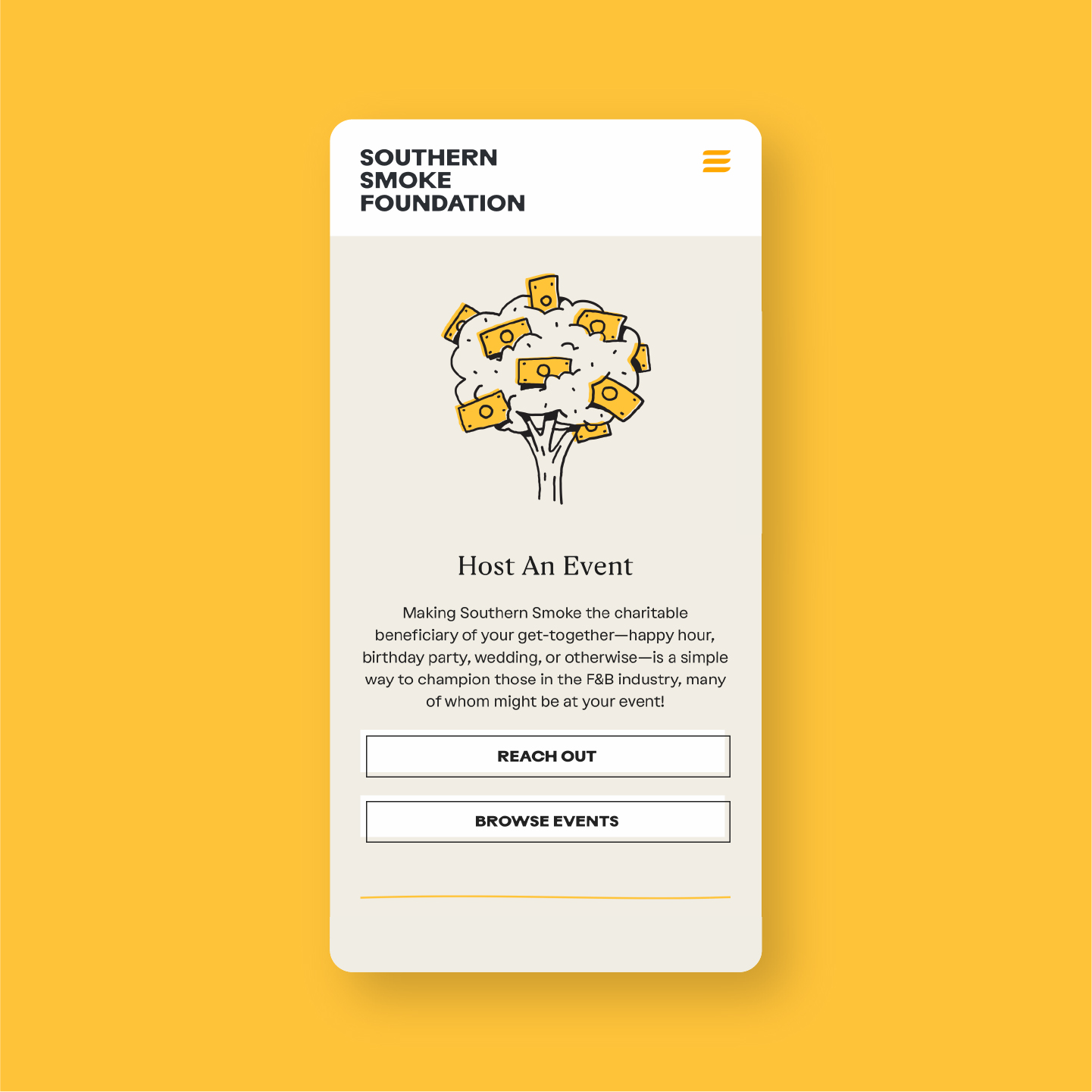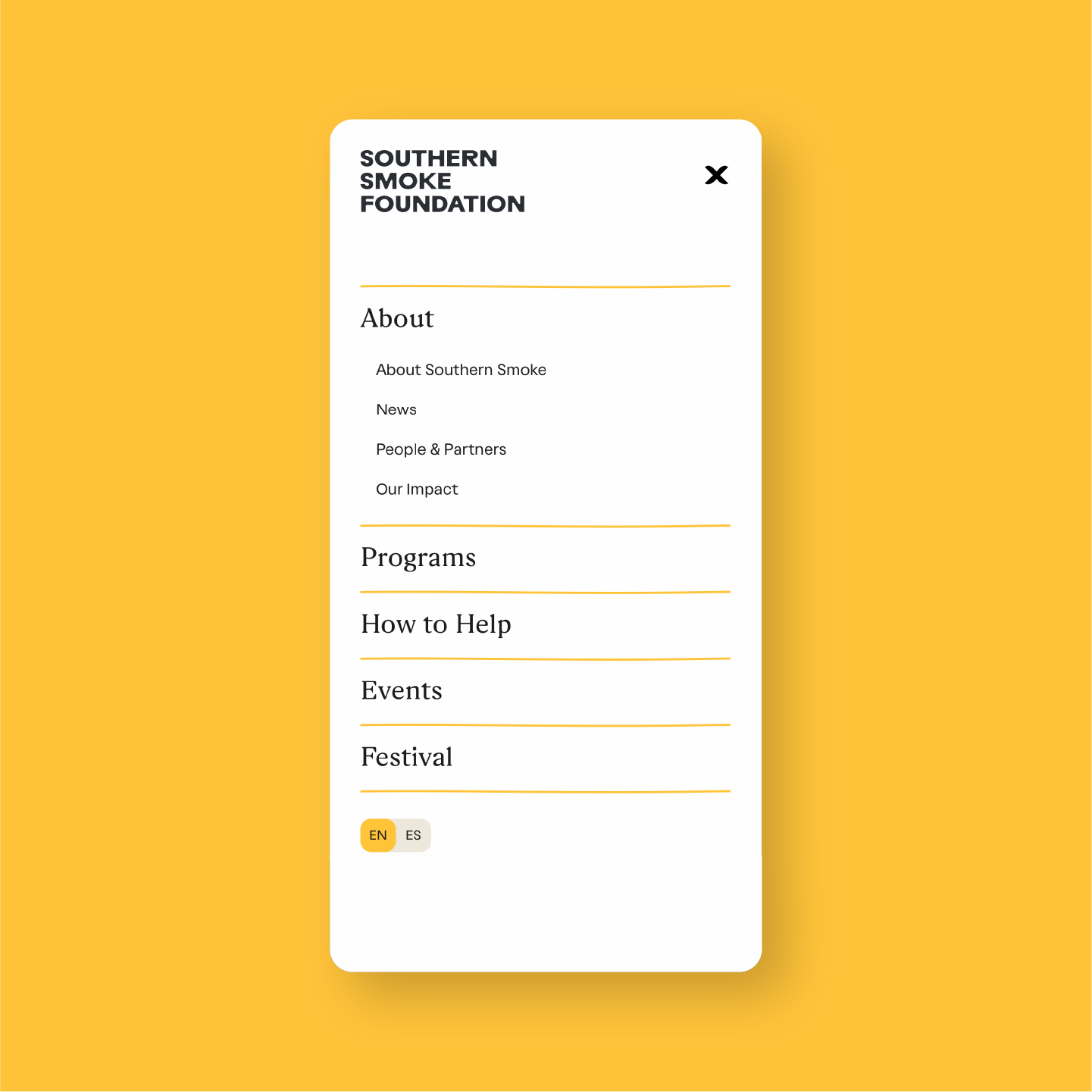 Text
For people looking to offer help, the site showcases several creative ways to give or get involved—most notably, via Southern Smoke Festival, the nonprofit's flagship fundraising event. An energy shift is immediately evident between the two "sides" of the site—from left-aligned and level-headed (foundation) to right-aligned and rowdier (festival). Templates for future events make it simple for the SSF team to archive, add new, and keep things feeling fresh and special moving forward.
Small + Large Image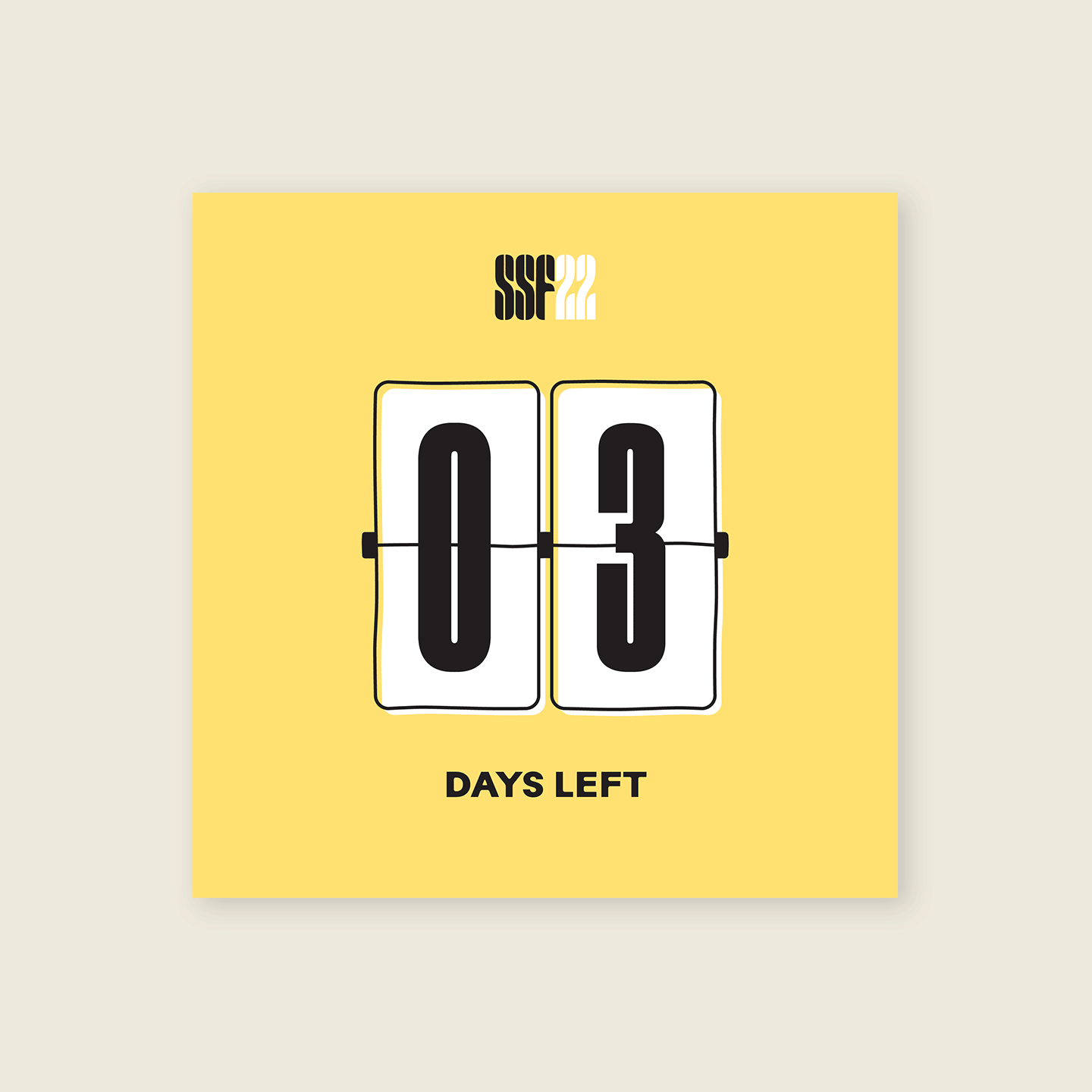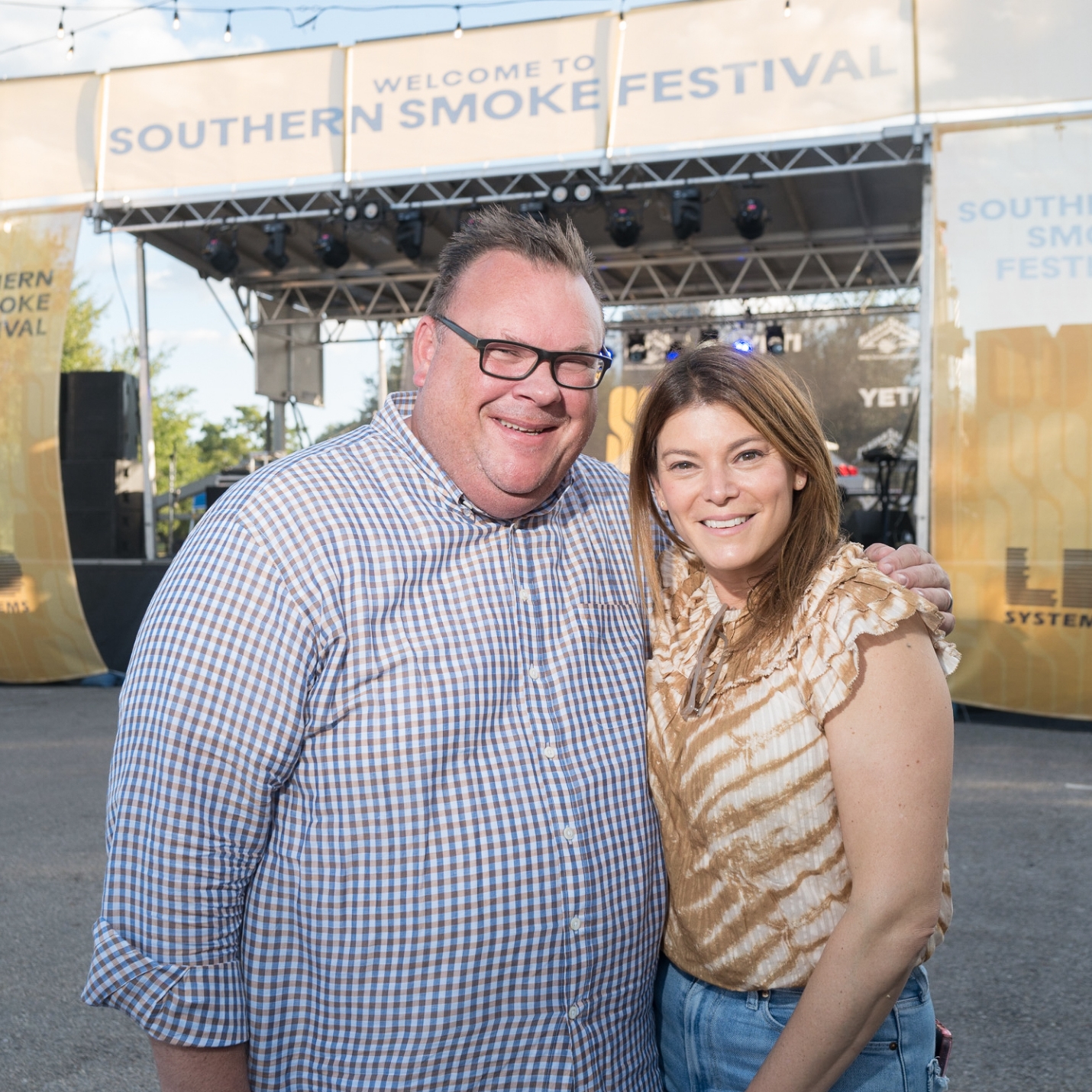 Large + Small Image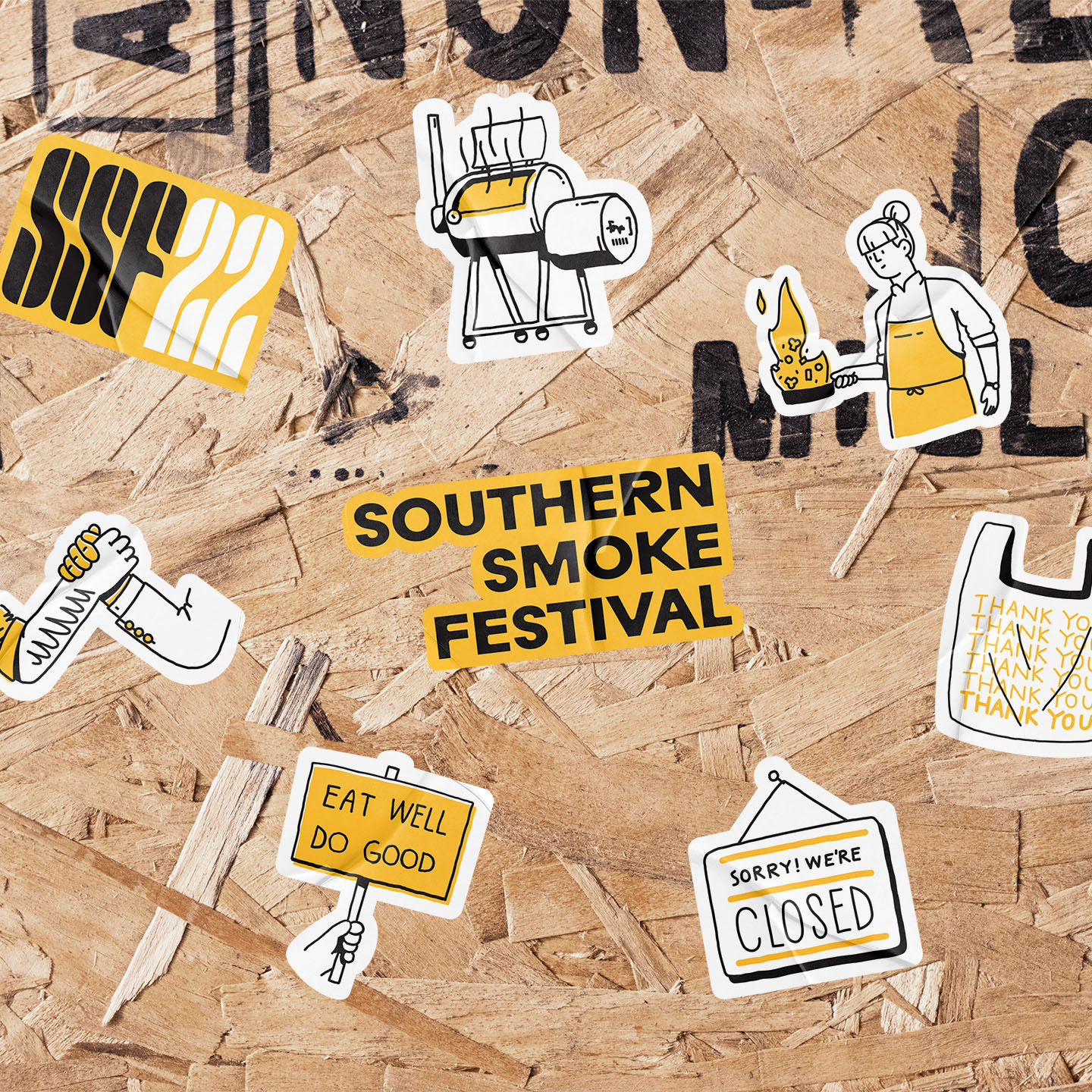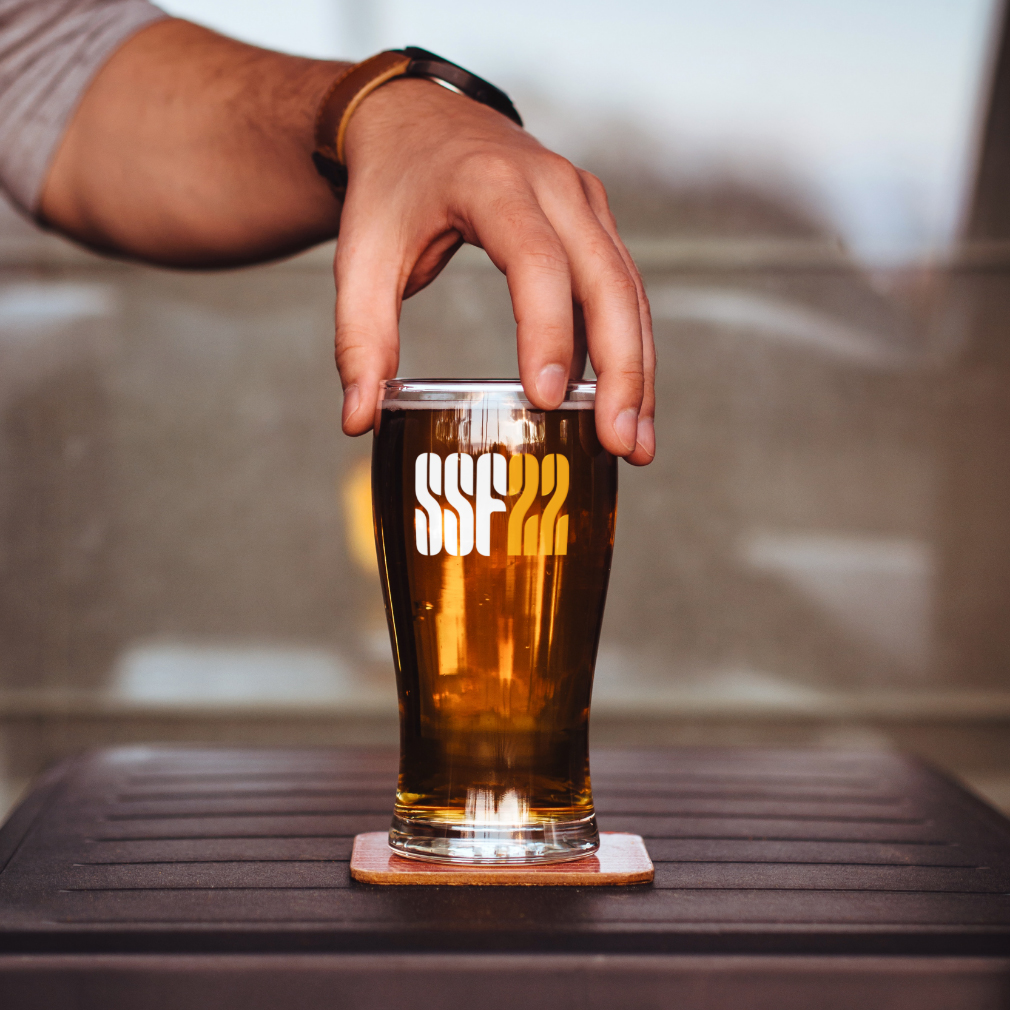 Small + Large Image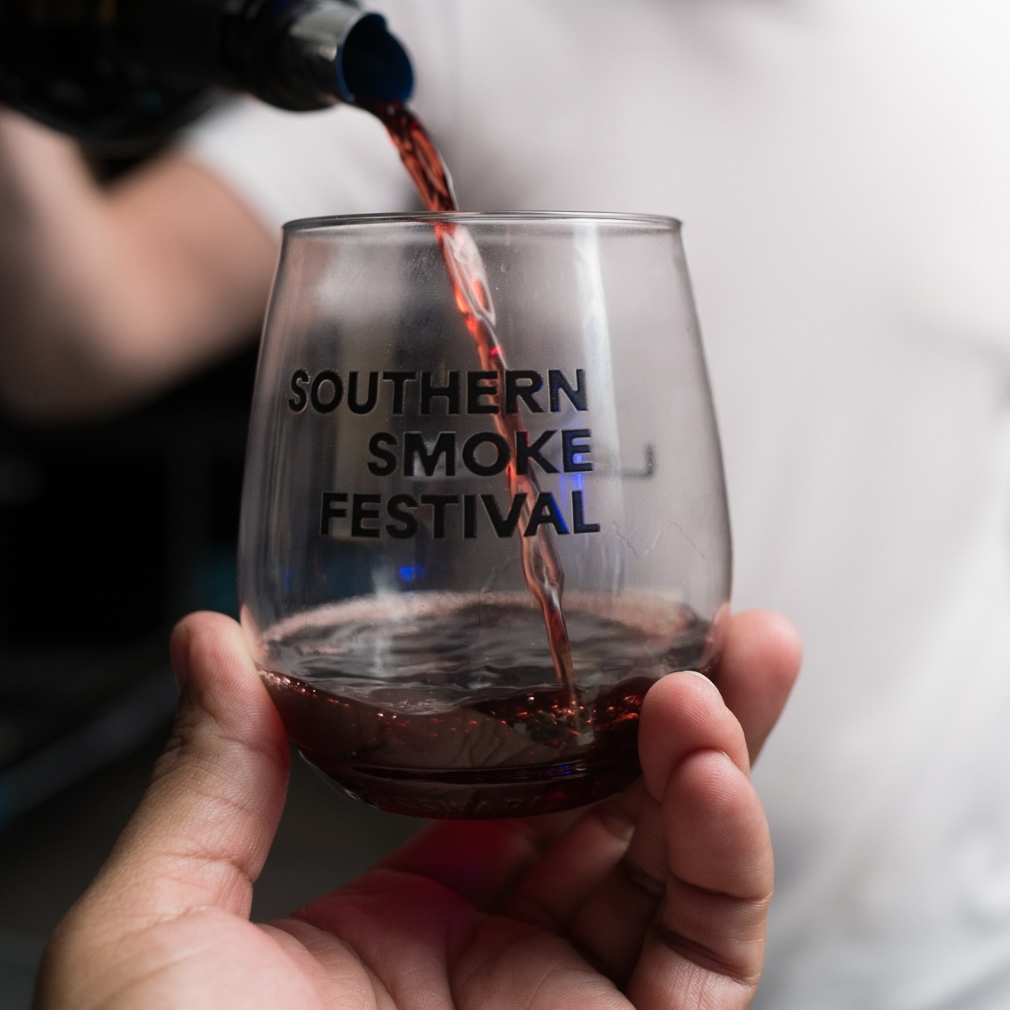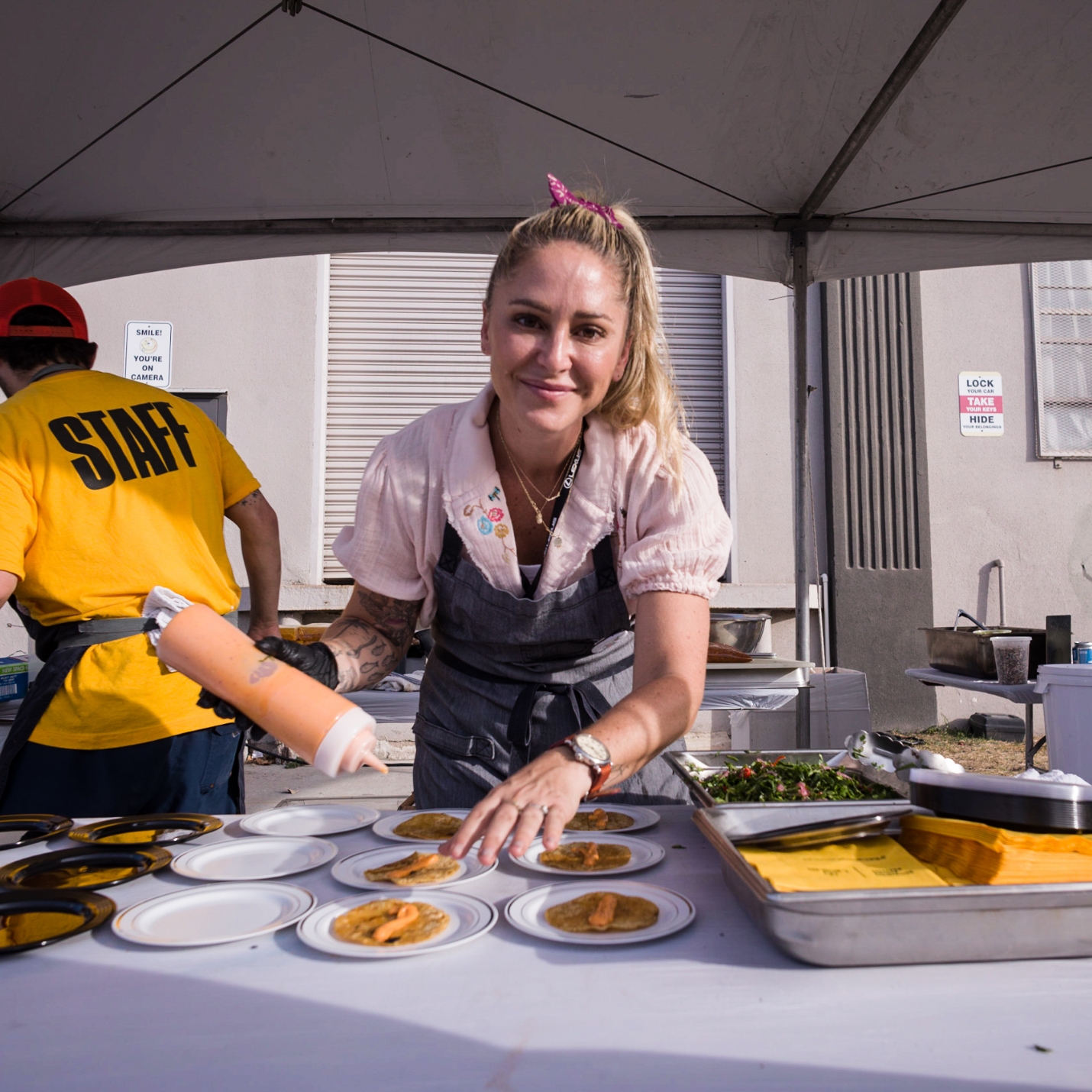 Text
When people come to Southern Smoke, we hope they feel like they've landed in a safe place where they'll be heard, seen—maybe hugged—and certainly helped. Their organization is on track to surpass $10 million in funds distributed this fall. We are so proud of this partnership, the product it yielded, and the new program it debuted.
Heartfelt thanks to SSF for trusting us with your brand and helping us kick off In Kindness.